Company Profile
Company Profile

Company Name
DAITO SEISAKUSHO Co., Ltd.
Business
Various kinds of vending machine, Money Counters, Mechanical and Electrical equipment for amusement industry, System development and manufacturing of various automatic service equipment
Establishment
Apr. 1940
Foundation
May 1956
Capital
60 million yen
Representative
President & CEO  Kaiho Kihara
Executive director
Senior Executive Director  Satoshi Kihara
Executive Director  Toshimi Matsunaga
Headquarters
〒115-0055
8th Fl., Palroad 3, 1-7-1, Akabane-nishi, Kita-ku, Tokyo
TEL:+81-3-5924-3111
FAX:+81-3-5924-3120


Number of employees
30 (Dec. 2014)
Annual sales
4.0 billion yen (Mar. 2014)
Group companies
DAITO HANBAI, INC. / DAITO Co., Ltd. / DAITO GIKEN, INC. / DAIO DENSHI / DAITO TECHNO Co., Ltd. / DAITO ENTERPRISE Co., Ltd.
DAITOCREA Co., Ltd. / Shanghai Santo Trade Co., Ltd. / and more
Group Annual sales
150 billion yen (Mar. 2013)
Main Bank
Mitsui Sumitomo Bank, Mizuho Bank, Tokyo-Mitsubishi UFJ Bank
History
| | | |
| --- | --- | --- |
| 1940 | Apr. | Founded by Shigeru Kihara as private business |
| 1944 | Apr. | Become legal entity under the name of DAITO KOGYO Co., Ltd. |
| 1945 | Sep. | Producing household kitchen supplies and stationeries |
| 1952 | Apr. | Producing household electrical parts and gas appliances |
| 1956 | May. | Changed its name to DAITO SEISAKUSHO Co., Ltd. |
| 1964 | Apr. | Producing various kinds of vending machines |
| 1980 | Apr. | Start producing Mechanical and Electrical equipment for Amusement Industry |
| 1982 | Mar. | Established DAITO HANABAI INC. as an independent sales enterprise, started its business in Arakawa-ku, Tokyo |
| 1997 | Mar. | DAITO HANABAI INC. moved its headquarters to Ueno, training center opened at the same time |
| 2009 | Aug. | DAITO SEIAKUSHO Co., Ltd. moved its headquarters to Akabane (current address) |
| 2012 | Oct. | Daito become top share holder in mechanical products in Amusement Industry with "Kiwame", leading mechanical solution |
Mechanism of company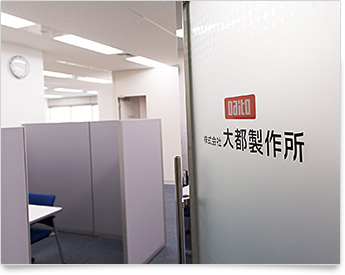 DIATO SEISAKUSHO has changed and transformed its business models toward the market needs for 75 years. Starting from production of stationery such as pencil, we challenged manufacturing various kinds of products including bicycle equipment with which we became one of major shareholders in bicycle industry.
We decided to enter Amusement Industry with no experience but big challenge after great recession in 1958. By tremendous trial and error, we finally acquired major market share of mechanical products and become leading company in Amusement Industry.
As you can see from our 75 years' footsteps, we thoroughly pursue leading position in each industry, and will never give up till we get leading position.
DAITO GROUP perform consistently all the steps of production including planning, design, research and development, purchase, assembling, stock, and delivering. DAITO SEISAKUSHO oversees and execute its strategy with its supply chain with big responsibility.